ROOF BAG VS ROOF BOX – THE GREAT DEBATE
ROOF BAG VS ROOF BOX – THE GREAT DEBATE CONTINUES…
What is a soft roof bag and how is it different to a classic hard roof box?
For many years there was just one external car storage solution and that was the classic, traditional hard roof box. Although we're grateful to the traditional roof box for its years of service, we think there's a new champion in town when it comes to the great debate of roof box vs roof bag! That champion would be our own soft roof bags.
Here at HandiWorld, we're proud to be the creators of one of the country's best-selling car roof bags, the HandiHoldall. We know that the success of the HandiHoldall is not down to luck, the public love our soft roof bag for its stability, reliability and generally easy to use nature in comparison with its hard-shelled relative!
Roof Bag vs Roof Box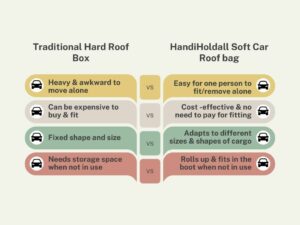 If you've never heard of a car roof bag or soft roof box then you may be unfamiliar with the concept of this modern, cost-effective alternative to the classic roof box, so allow us to explain all!
The HandiHoldall is one of the best car roof bags in the business (in our opinion anyway) and that's down to various reasons but we're going to breakdown some of the reasons for you:
Easy for one person to assemble and fit – even when they're empty, traditional roof boxes are big and bulky which means you often need more than one pair of hands to get them fitted to your vehicle but thanks to the soft design of the HandiHoldall, it's easier for one person to assemble and fit this car roof bag alone.
Lightweight but high capacity – the HandiHoldall car roof bag is the perfect combination of lightweight but high capacity, meaning it's easy to use but holds everything you need. Weighing just 4.75kg when empty, the HandiHoldall can hold up 320 litres of cargo and a weight of up to 50kg!
Ultra Weather Resistant – one of the main reasons you may favour a roof box is because you trust that it is waterproof and will keep your cargo safe with the hard-plastic outer shell but the HandiHoldall is made with a super weather-resistant blend of fabrics to ensure your belongings will arrive at their destination in perfect condition. The main fabric is a polyester tarpaulin which is laminated with 0.20mm of PVC for extra protection.
Versatile for all vehicles – finding a hard roof box that is the right dimensions for your vehicle and the roof bars you have can be difficult but when you choose our roof bag, you can rest assured it will be the perfect fit for your car. Whether you drive a big or small vehicle, have pre-fitted metal roof bars or are using our HandiRack, the inflatable roof bars, the HandiHoldall will work for you.
Easy to store – unlike the traditional hard car roof box, if you want to take these soft roof bags off your car, they couldn't be easier to store. Existing hard roof boxes are bulky, heavy and can be tricky to manoeuvre alone. Our soft car roof bags solve this issue entirely. Not only is it a quick and simple procedure to remove the HandiHoldall, but it's also super easy to roll up our soft roof bags and pop them away in your boot or garage for the next time you need it. What's more, if you're away on holiday there's no driving around all week with an empty heavy roof box eating away at your fuel. The soft car roof bag is quick and easy to remove and goes away until the return journey, saving you money on your fuel bills and being kinder to the environment too.
Easy to share – if you use your roof bag on your car and someone in the family needs to borrow it, it's a quick and simple swapping exercise if they have a HandiRack or existing roof bars.
Cost effective – it's always important to factor in the overall cost of having someone attach your hard roof box to your fixed roof bars, as well as the outlay for the box itself. Our soft roof bag can be fitted by you, is cheaper than a hard roof box and if you don't already have roof bars then you can save even more money by getting yourself our inflatable ones instead.
Flexible! In comparison with the rigidity of the hard roof box, our soft car roof bags can adapt to the size and shape of the cargo. Especially useful if you've an oddly shaped item to transport.
And there's more!
Our car roof bags even come in different sizes to suit the different needs of all our customers. There are three different HandiHoldall roof bags available. 400 Litres, 330 Litres and 175 Litres. The 400 Litre model is a large capacity, waterproof soft car roof bag suitable for transporting lots of luggage. Next in line is our 330 Litre robust, weather resistant HandiHoldall, ideal for family holidays and camping trips away. This is followed up by the newest member of our car roof bag family the 175 Litre model. This soft roof bag is perfect if you need to have something else up on top of your car for trips away, great for cyclists and water sport enthusiasts who need to transport belongings and equipment at the same time.
We think the above reasons should be enough to convince anyone that the roof bag is the way forward if you're on the hunt for a trustworthy car storage solution but if you're a traditional roof box user that is still unsure that the HandiHoldall is a better option, don't just take our word for it.
To start with, here's a video review of our HandiHoldall soft roof bag in action!
https://www.youtube.com/watch?v=ZDY0D3x89hQ&t=43s
We also think the fact that HandiWorld has an excellent Trustpilot rating demonstrates just how great our products are, so allow us to share with you a few real-life reviews about the HandiHoldall that we think will be enough to seal the deal for anyone who is doubting whether a soft roof bag is right for them!
"I used the HandiHoldall for the first time and was very pleased with it. I bought it to replace a Thule Ranger which has deteriorated and was no longer waterproof. The HandiHoldall is larger and packs up much smaller."
"HandiRack and HandiHoldall brilliant! Took nearly all of our camping equipment. Driven through rain and hail, no leaks or problems. Truly a fantastic product!"
"Just used the HandiRack and holdall for the first time, FANTASTIC piece of kit, fitted all our sleeping bags, pillows, clothes, etc into it so left room in the car for family of four and all camping gear."
If you're fed up of battling with a bulky roof box while fitting it to your vehicle or you're finding that your hard roof box is no longer storing as much as you need it to, it's time to try out the HandiHoldall, the best roof bag in the business!
If you're ready to make the switch and try out one of our soft roof bag solutions, buy your HandiHoldall directly from HandiWorld and receive it within just a matter of days, so you can get started with all your adventures!