HandiRack vs Roof Rack – what's the difference?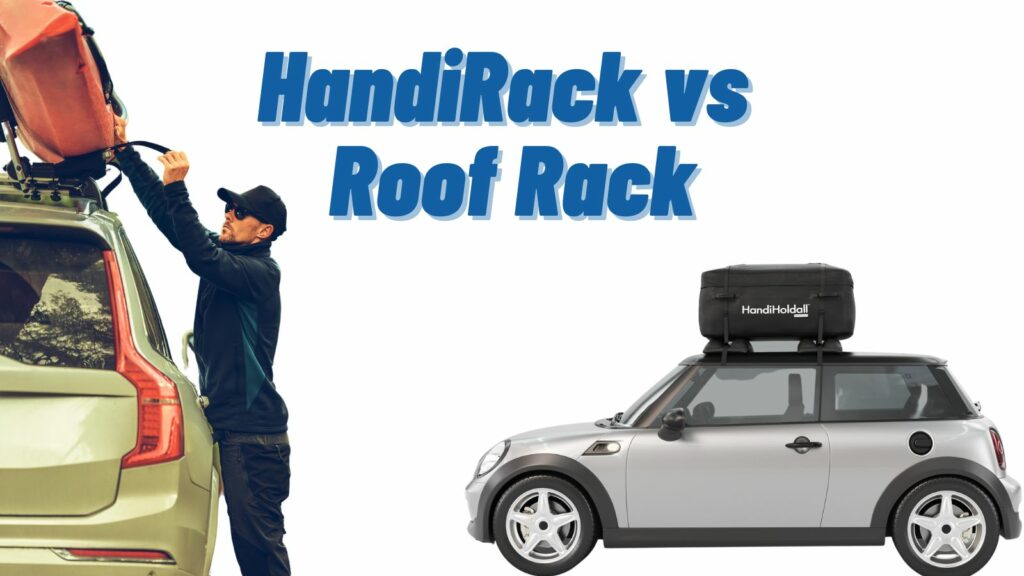 What are HandiRack inflatable roof bars and how are they different to fixed roof racks? 
A few years ago, fixed roof racks were the only option when it came to additional storage on the roof of a car. Times have changed considerably since then, if you've never heard of inflatable roof bars then we're thrilled to introduce you to our HandiRack. We adopted the HandiRack back in 2007 and 15 years later, we now have our best version of the HandiRack available and people everywhere are loving what we believe to be the best roof rack on the market!
Our inflatable roof rack: The HandiRack
The HandiRack is probably our most famous product. A fantastic cost-effective way of adding extra capacity to the roof of your car. The HandiRack fits almost all types of cars (the ones with roofs) and is quick to attach and then remove when no longer needed. We think there are so many benefits to the inflatable HandiRack roof bars, that we wanted to compare our load carrier with traditional fixed roof racks. We hope you agree with us on the innovative versatility of the HandiRack.
HandiRack vs Roof Rack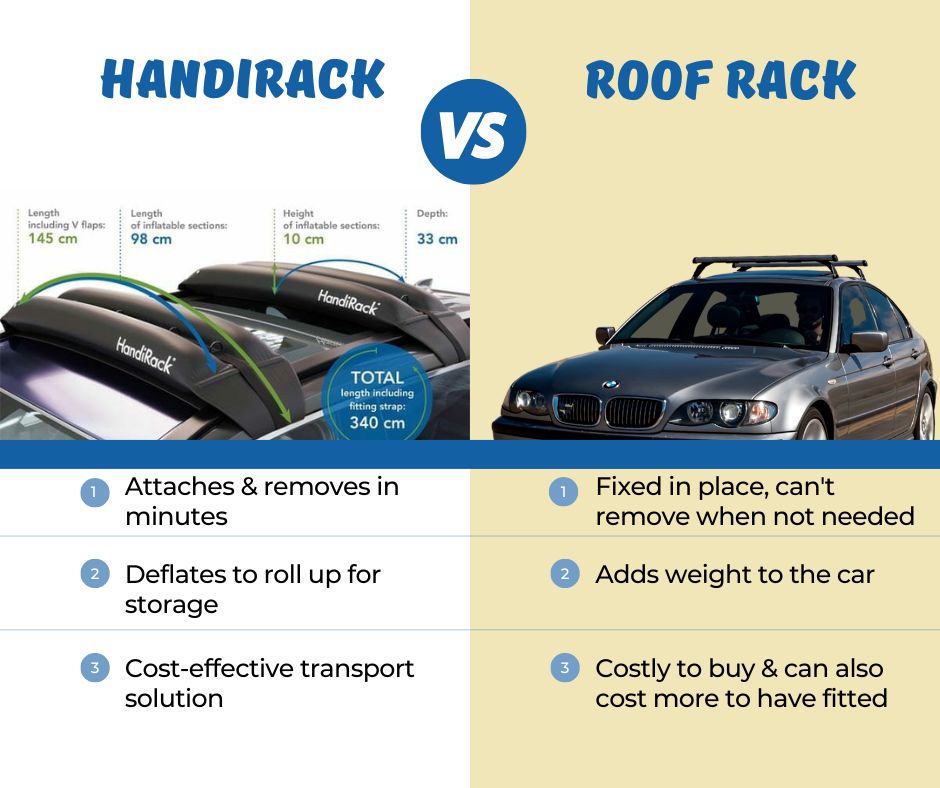 The HandiRack fixes to your car (almost any car) in minutes. When not in use you can remove as quickly.
The HandiRack, once deflated will roll up for easy storage, or for you to lend to a friend.
Fixed roof bars add a constant weight to a vehicle, meaning more fuel consumption.
Fixed roof bars can be expensive to buy and then may also need fitting too, while the HandiRack can be easily attached and removed without help.
Some HandiWorld customers have told us they prefer the look of their cars without a fixed roof rack; they value that the HandiRack roof bars can be removed and stored when not in use.
Importantly, when changing your car, your HandiRack comes with you!
If you are always running out of room in the car, the HandiRack could well be the answer to your transportation problems; a budget friendly way of extending the storage space of your car. The versatility of the HandiRack means not only can you get your luggage away on a family holiday, if you're heading abroad, you can remove the HandiRack at the airport to take with you for the hire car.
We might be biased but, we think our HandiHoldall soft roof bags are the perfect partner for the HandiRack roof bars, available in different sizes to suit your individual needs. Our HandiHoldall roof bags are a modern, cost-effective alternative to the classic roof box, read our article comparing hard traditional roof boxes with the HandiHoldall soft roof bags here.
The HandiRack fully complies with the internationally recognised safety standard for roof bars ISO/PAS 11154, and can manage loads of up to 80KG (subject to individual vehicle manufacturer's recommendations).
You can find more technical information and specifications about the HandiRack here.
Videos showing how quick it can be to fit the HandiRack to different vehicles can be found here.
Check out pictures of the HandiRack roof bars in action over in our Instagram highlights and please tag us in your pictures. We've had pictures shared with us of all sorts of items on the HandiRack; from kayaks and canoes through to garden benches!
Happy adventuring!