5 Ways to Use a HandiRack, the inflatable roof bars for every car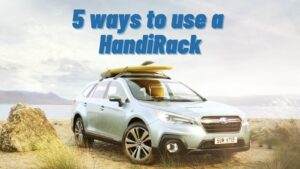 Ah, the HandiRack. If you know what we are talking about, then you will know that these our top-selling inflatable roof bars that are suitable for almost every type of car. Maybe you bought some as a gift for someone, or for your own use. Maybe you bought some as a temporary measure, and now these are your go-to roof rack solution every time.
Whatever you bought your HandiRack for, you've likely discovered that there is a whole range of situations in which they become very handy! Here are five of our favourite ways to use the HandiRack:
1) Carry on Camping
We love camping but doesn't it require a lot of stuff sometimes, especially if you have a family? There's a tent and groundsheets, beds, stuff, a cool box, games, clothes for every eventuality, chairs, and more stuff.
Check out our camping equipment checklist
To give your car extra carrying capacity, a HandiRack paired with our HandiHoldall and waterproof HandiDuffels are ideal for camping equipment.
2) Road Trip
The HandiRack is helpful for all holidays, as well as for camping & caravanning. Heading away on a road-trip but need space for luggage and the actual family too? One you take those extra bags off the back seat and pop them up on the car roof, there's space for family members to sit comfortably, and no need to carry luggage on their knees.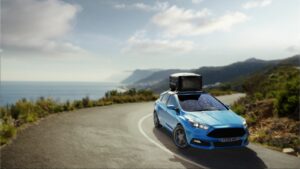 3) Keep on moving
Whether it's moving to somewhere roomier, downsizing, or trotting your kids off to the next stage of their lives, the HandiRack is a fab way of inexpensively adding carrying options to your car when moving home. We've seen beds, chairs, lightweight wardrobes and garden furniture transported on HandiRacks. We love to see your photos – keep them coming in!
If you're taking your offspring to their university accommodation this year, then you need to read our post – How to Pack your car for trips to University
4) Surfin' time
The HandiRack is ideal for moving sporting equipment such as surfboards, paddleboards, kayaks and canoes. Pair it with our CAMBA Kart all-terrain trolley and make moving your kit between your car and the water that bit easier too! And the inflatable roof bars don't mind if they get a little wet too.
Paddleboarding in particular has seen a real boom in popularity this last couple of years. Check out our post on Stand-up Paddleboarding for Beginners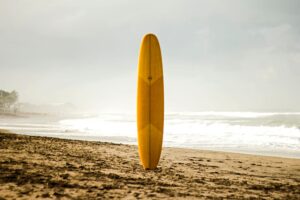 Photo by Dendy Darma Satyazi on Unsplash
5) The Flat Pack
Are you a fan of flat pack furniture? We often find ourselves at our local IKEA with the plan of picking up a small coffee table and some meatballs, and all of a sudden, we also have a bag of tealights, some new bowls and plates, a lovely picture frame that was on sale, and a whole extra bookcase (like you do). The HandiRack has dug us out of a spot on more than one occasion and saved us having to put Mother on the bus home instead. Just remember the bungees!
Want to know more about the HandiRack?
Check out this post on How to fit a HandiRack
What unusual items have you had up on the HandiRack? We'd love to see your pics and hear your stories.