HandiWorld joins the Small Business Sunday Winners!
HandiWorld is thrilled to announce our recent selection as an #SBS winner!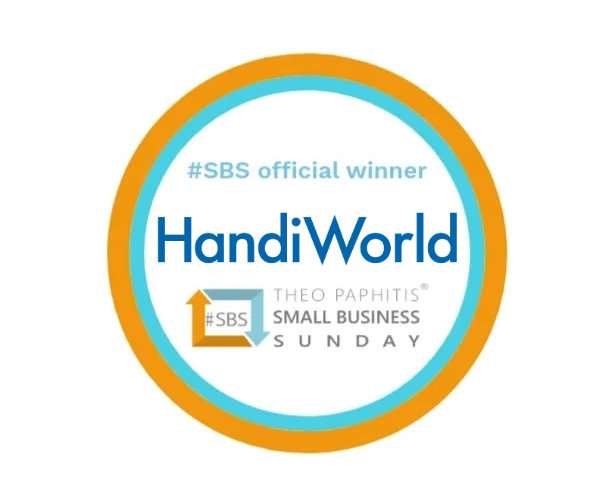 We are delighted to join over 3,750 businesses actively engaged in the Small Business Sunday (#SBS) network. Winning provides an exciting opportunity to collaborate, support and network with a range of like-minded businesses across the UK.
What is Small Business Sunday? (#SBS)
In October 2010, Theo Paphitis, renowned for his presence on the BBC's Dragons' Den, conceived #SBS as a platform for small businesses to pitch their offerings directly to him on Twitter. As chairman of various successful ventures, Mr. Paphitis recognised the importance of fostering the entrepreneurial spirit. Businesses were invited to tweet in directly and to share news and updates about their business and products. Each week six winners were chosen to be highlighted and join the #SBS community.
You can explore the official #SBS website to learn more about this fantastic initiative here.
Being an #SBS winner brings exclusive benefits and opportunities. Each week the new winners have their profiles boosted on social media. But more than that one of the most compelling aspects of Small Business Sunday is the supportive and welcoming #SBS community. Here, like-minded individuals share their successes, challenges, and invaluable insights, fostering a vibrant environment for growth and collaboration.
Joining the ranks of #SBS Winners
Our journey as an #SBS Winner began on July 17th 2023. The support on Twitter and Instagram has been humbling, and we are full of gratitude to the #SBSCrew and the entire community for the welcome.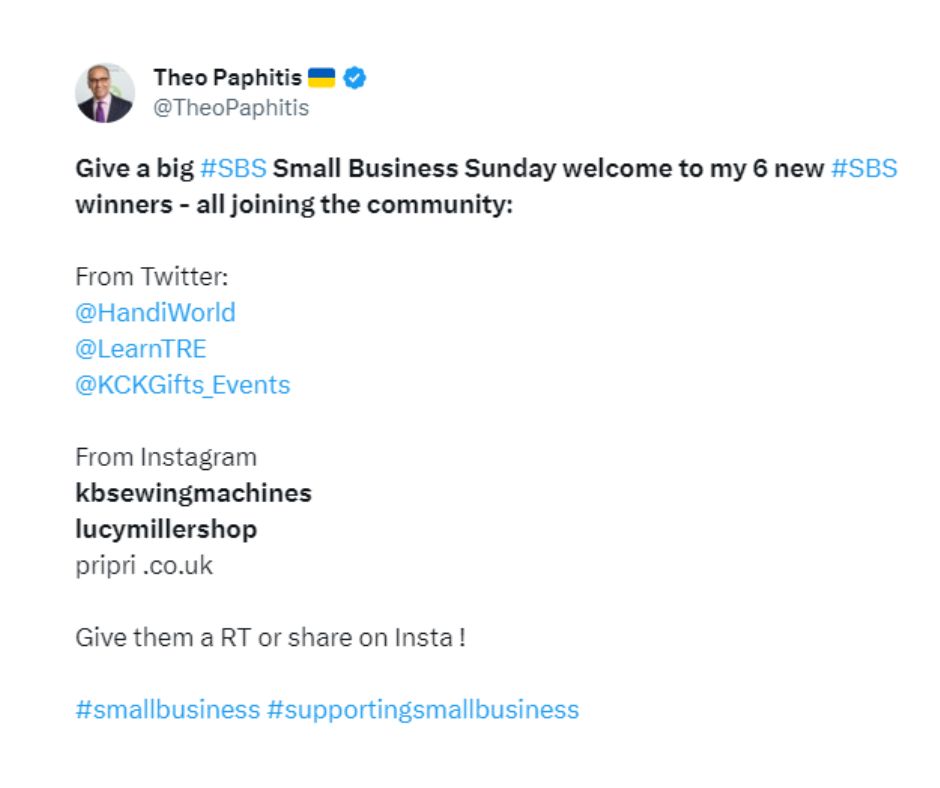 #SBS Winners Directory
#SBS Winners selected by the #SBS team are also added to a list of previous winners. This directory includes all the small businesses across the country that have been #SBS winners over the years. It's an invaluable directory for anyone who is looking to support small business in the UK.
You can search the directory on the Small Business Sunday website here.
How to enter #SBS
For those inspired by our journey, the entry process is straightforward. Tweet or post on Instagram during the designated time slot every Sunday, using the #SBS hashtag and tagging @theopaphitis. Detailed entry instructions can be found here.
Our #SBS journey has just started and the countdown to the 2024 event has begun! We're excited to get to know even more of the #SBS community. Stay tuned for more updates and progress as we continue to learn more about this inspiring network.